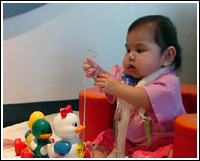 How Do I Become a Child Life Specialist (CCLS)?



PLEASE VISIT www.childlife.org FOR MORE INFORMATION ABOUT THE CHILD LIFE PROFESSION AND OUR PROFESSIONAL ASSOCIATION, THE CHILD LIFE COUNCIL.

PLEASE VISIT www.childlife.org/Certification/Getting%20Certified/index.cfm TO FIND HOW TO BECOME A CERTIFIED CHILD LIFE SPECIALIST AND TO ASSESS YOUR ELIGIBILITY.

From the Child Life Council website:
The Certified Child Life Specialist (CCLS) credential is the exclusive certification issued by the Child Life Council. The Child Life Certification Program is a rigorous, examination-based professional certification credential. The requirements for getting certified are based on academic and clinical experiences, and successful completion of the Certification Examination. We recommend that all child life professionals interested in becoming certified start by downloading the Candidate Manual, a detailed, printer-friendly document that provides a comprehensive overview of the certification process from start to finish, along with instructions for establishing eligibility and applying for the exam.



Current Eligibility Requirements - Overview


Please refer to the comprehensive section on Eligibility Requirements and Eligibility FAQs for additional details. Eligibility requirements are subject to change. See Upcoming Eligibility Requirement Changes for a list of changes that will go into effect in 2019.

Currently, in order to establish eligibility for the exam, candidates must meet three requirements prior to the exam application deadline.

Minimum of Baccalaureate Degree

Applicants must have successfully completed a bachelor's degree.*
* This requirement will be changing. A progression of steps has been outlined whereby in 2025 all newly credentialed Certified Child Life Specialists will be required to hold an advanced degree in child life from an academic program accredited by CLC. A timeline has been developed to help clarify these steps, and to assist those pursuing certification over the next few years to plan their academic path.


Course Work

Applicants must have completed a total of 10 college-level courses in child life or a related department/subject* including a minimum of one child life course taught by a Certified Child Life Specialist (CCLS).

*Course work requirements will be changing effective in 2019. See Upcoming Eligibility Requirement Changes for more information.


Clinical Child Life Experience

Applicants must complete a minimum of 480 hours* of child life clinical experience under the direct supervision of a Certified Child Life Specialist who meets specific qualifications.

*The number of hours required will increase to 600 beginning in 2019. See Upcoming Eligibility Requirement Changes for more information.
Course Work Review


If, after reviewing the eligibility requirements, you are unsure if the course work on your transcript will be accepted to establish eligibility for the Child Life Professional Certification Examination, you have the option to request a course work review. Learn More about Course Work Reviews



Child Life Education Opportunities available in Canada:


The schools listed below do not limit where you can get a BA, they are only listed because they may offer some specific child life courses.
McMaster University (Child Life Studies Post-Graduate Diploma Program)
University of Victoria (Bachelor of Arts in Child and Youth Care)
University of the Fraser Valley (Bachelor of Arts in Early Childhood Education/Child and Youth Care with a specialization in child life), whose programs offer direct child life studies
Child life Internships may be available for students currently attending accredited educational institutions who hold affiliated agreements with corresponding health care centres.
CLICK HERE
to see a list of Health Centres in Canada who offer child life internships to eligible applicants (PDF).